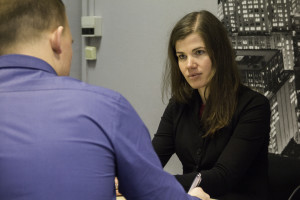 Lingua Franca also offers private lessons for those who prefer to study one-to-one. During these private lessons, our teachers focus on your individual language training needs; therefore, this method of studying is very useful for people who need to improve their language skills in a short period of time.
As individual lessons are tailored to meet the student's particular requirements, they are very beneficial for those who need to improve their language skills for a specific purpose; be it an up-coming job interview, a business trip, a presentation, or a holiday abroad.
Private lessons can be arranged with our teachers at times convenient for you. Before the first lesson, the teacher will meet with you to analyse your needs and assess your current level of English, French, or Russian in order to prepare the best possible course for you.
Private lessons can take place in person or online (via Microsoft Teams or ZOOM), whichever option is most convenient for you.
Prices (VAT included):
English Private Lessons: 35.00 EUR
French Private Lessons: 28.00 EUR
Russian Private Lessons: 25.00 EUR
SHARED PRIVATE LESSONS
Many students find shared private lessons to be a very convenient way of learning as they can enjoy the benefits of studying in a very small group (maximum 4 people), while sharing the cost of the lessons.
Prices (VAT included):
English:
1 person – 35.00 EUR
2 people – 38.00 EUR (19.00 EUR each)
3 people – 42.00 EUR (14.00 EUR each)
4 people – 42.00 EUR (14.00 EUR each)
French:
1 person – 28.00 EUR
2 people – 31.00 EUR (15.50 EUR each)
3 people – 34.50 EUR (11.50 EUR each)
4 people – 37.88 EUR (9.47 EUR each)
Russian:
1 person – 25.00 EUR
2 people – 28.00 EUR (14.00 EUR each)
3 people – 31.50 EUR (10.50 EUR each)
4 people – 36.00 EUR (9.00 EUR each)