Despite the best intentions of all parties in a business relationship, unfortunately, mistakes happen from time to time. When a mistake is serious enough, we might find the need to formally address the issue with an email of complaint.
Although writing an email of complaint is never a pleasant process, in this lesson, we will try to simplify the structure of an email of complaint and explore the language associated with this kind of correspondence in order to make it as painless as possible.
Let's start by looking at the basic structure of an email of complaint:
| | |
| --- | --- |
| | Email of Complaint |
| 1 | Address the correct recipient. |
| 2 | Explain why you are writing. |
| 3 | Provide the relevant details (including attachments of supporting documentation) |
| 4 | When appropriate, acknowledge possible reasons for the problem. |
| 5 | Suggest a solution. |
| 6 | Close the email respectfully. |
Step 1: Identify the Correct Recipient
In order to reach an acceptable resolution as quickly as possible, before writing your email, be sure to find out who specifically should be receiving your complaint. In many instances, your email will be directed to the customer service department of an organization. However, if there is another department or person directly responsible for the goods or services you have received, address your email accordingly.
Step 2: Explanation
Open your email directly and politely, without apologizing. Do not put off your email of complaint for long, as delay can only complicate matters, weakening your case and potentially leading to a situation in which the relevant recipient has forgotten the main details of your purchase. Explain why you are writing.
I am writing to complain about…
I am writing with reference to Order Nr. 728786, which we received yesterday….
I am writing to clarify a misunderstanding about…
Always be polite and impersonal when explaining the reason for your complaint. Don't use any emotive language like "enraged", "infuriated", or "disgusted". There is a good chance that the person who is receiving your complaint had nothing directly to do with the error, so there is absolutely no benefit in antagonizing him or her. You can express dissatisfaction in a less emotive way.
This is the fourth time the error has occurred…
Unfortunately, if our orders cannot be fulfilled efficiently in the future, we will have to consider alternative suppliers…
We would be grateful if you could ensure that these kinds of issues do not arise again…
In fact, if you have had a positive working relationship up to now you may want to mention that fact.
I am writing to thank you for your continued help/service regarding our order of ………… and to resolve a minor issue with …..
We have been very satisfied with your service to date, which is why I am confident you will be able to help clarify a misunderstanding regarding ….
Step 3: Provide Details/Attachments
Always provide information such as dates, times, places, contract numbers, and invoice numbers, all of which will help expedite the process of settling your issue. When possible, include photos, screenshots, receipts, tracking numbers, and any other supporting documentation that will bring a resolution to your complaint.
I am writing with regard to Order Nr. 701663 (tracking number: 000701222), purchased from your online shop (lightsareus.nd) on May 23rd and received here in Brussels on June 3rd. As you will see in the attached images, all of the received light fixtures were broken upon arrival…
Step 4 (when appropriate): Acknowledge Reasons for the Error
If your relationship with the supplier has been positive and professional up to this point, your recipient might appreciate your attempt to understand the causes of the current issue. However, be polite and diplomatic if you choose to include this information.
I understand that this is an incredibly busy time of year in your industry…
The issue may have occurred when the funds were transferred…
There may have been an issue when converting feet and inches to metric sizes…
Step 5: Suggest a Solution
Now is the time to clearly express what you expect to happen next. Be firm but always diplomatic. If this is your first email of complaint to the supplier, there should be no threats of any kind.
In order to clear up any misunderstanding, I look forward to receiving an itemized invoice at your earliest convenience…
I kindly request that you send the remaining coffee mugs by the 30th of January…
I would greatly appreciate if you could look into this matter and report back to me by the end of the week….
Due to the sub-standard quality of the office chairs, I am forced to request on a full refund….
Step 6: Close Respectfully
Thank the recipient for their assistance in resolving the issue, and make yourself available to future correspondence with the recipient. Use a formal complimentary close like Kind regards, Yours sincerely (if you know the name of the recipient), or Yours faithfully (if you do not know the name of the recipient). Do not use informal complimentary closes such as Best.
Thank you for your time and assistance in resolving this matter. You can reach me at this email any time or on my mobile at +371….. from 8:00-20:00 on working days…
I would greatly appreciate your help in solving this issue. If you require any additional information from my side, please feel free to contact me by email……
Please have a look a the sample email of complaint below before continuing on to the quizzes for this lesson.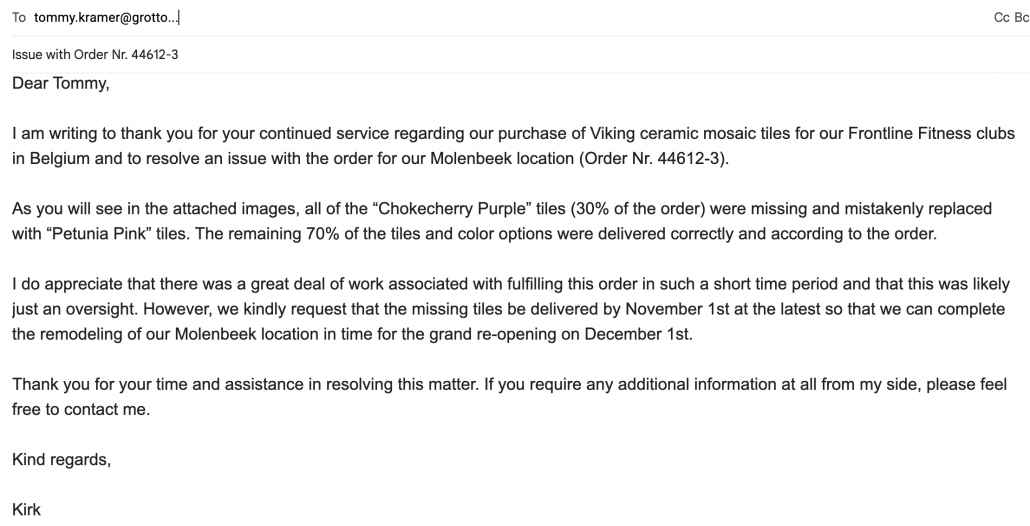 Now that we have looked at the basic structure of an email of complaint, you are welcome to continue on to the quizzes for this lesson.