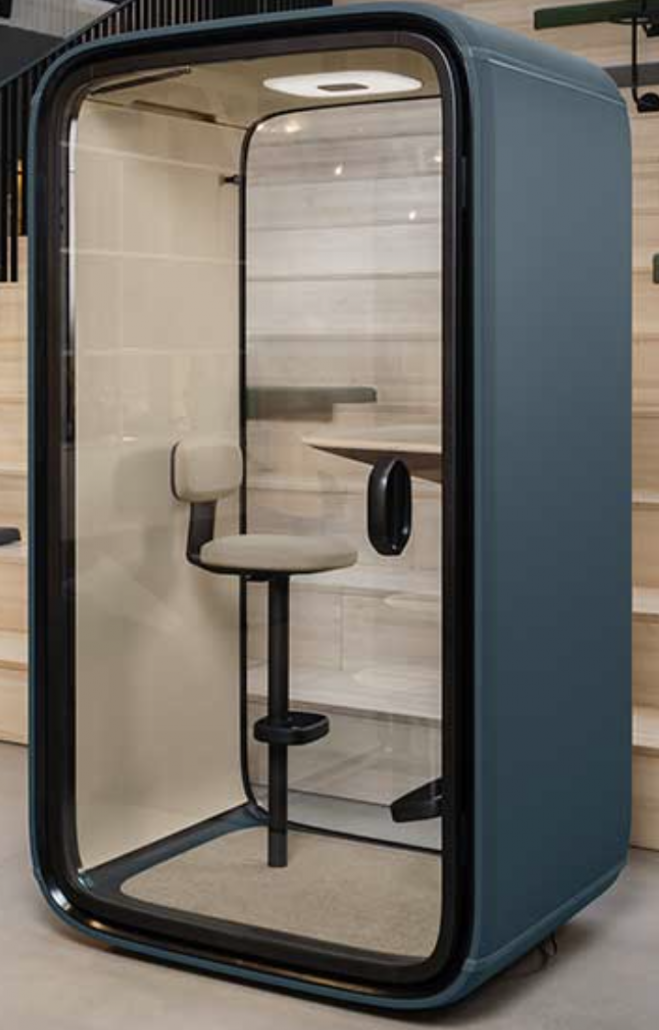 You were tasked with outfitting your office with 8 soundproof privacy pods like the one pictured on the right. The good news is that they have arrived, and they look fabulous. However, there is some seriously bad news as well.
First and foremost, the pods are not soundproof at all. Despite receiving assurances from the supplier, STIFLE Ltd., that nobody would be able to overhear the video calls being held in the pods, the opposite is true. Any conversation held above a whisper can easily be heard, which is obviously a problem in your open plan office.
Additionally, you had agreed that the pods would all come with frosted privacy glass and that your company's logo and slogan would be printed on the backdrop of the pods' interiors. None of those requests were fulfilled. Is it possible that you received the wrong order?
Clearly, action needs to be taken to rectify the above-mentioned issues. Start by writing an email of complaint to your contact person at STIFLE Ltd, Larry Mufflesmith, making the demands that you feel are appropriate for this situation.
Here are some things to keep in mind:
This is the first time you have done business with STIFLE.
They have been exceedingly polite and quick to respond to all of your questions.
You were given a 25% discount on your initial order.
Prepare your email of complaint and send it to matt.ettl@linguafranca.lv with the subject line "Writing Task 3". You are welcome to take a look back at Lesson 8 for some helpful reminders on how an effective email of complaint is composed.