If you find yourself in the uncomfortable position of receiving an email of complaint, remember that how you respond can mean the difference between keeping or losing a valued customer. A well-written reply to an email of complaint can reinforce the positive brand image of your company, whereas a poorly written reply can lead to negative word-of-mouth advertising about your organization.
How you respond to an email of complaint depends, of course, not only on the nature of your business but also the complaint received. There is, however, a basic structure that we can follow when replying to an email of complaint.
| | |
| --- | --- |
| | Reply to an Email of Complaint |
| 1 | Thank the recipient for his/her email. |
| 2 | Express concern and apologize (if appropriate). |
| 3 | Request more details if necessary. |
| 4 | Explain what caused the issue. |
| 5 | State how you intend to resolve the complaint. |
| 6 | Make a final apology (if appropriate) |
Step 1: Thank the Recipient
In a formal tone, thank the recipient for bringing the issue to your attention.
Further to your email regarding the ………., I would like to express my appreciation for bringing this matter to my attention…
Thank you for your email of January 10th in which you expressed concern about…
Thank you for your email regarding the issue with…
Step 2: Express Concern
Even if it is unclear at this point whether or not the complaint is justified, express concern so that the recipient understands that you are taking the situation seriously. If the complaint is indeed justified, be sure to apologize here as well.
I was very concerned to hear about your experience with the…
We were truly concerned to learn about the troubles you had with…
Please accept our sincere apologies for…
I would like to formally apologize for the error…
Step 3: Request More Details
Before you can respond fully and honestly, you might need to ask for more information here.
In order to fully investigate this matter, I would appreciate if you could provide me with more information about…
I will need some more details so that I can assist in resolving this matter…
Could you provide me with more information about ………?
Step 4: Explain the Cause of the Issue
Although you may not want to share a full explanation of the circumstances that led to the complaint, here you can provide some background information to help your recipient understand how the error may have occurred.
I am afraid this issue was due to a temporary staffing problem…
Unfortunately, it seems that the doors were damaged during the shipping process…
I regret to inform that the order was misplaced owing to a temporary technical problem with our…
Step 5: Offer a Resolution
Reassure the recipient that something is being done to settle this issue. You may offer to carry out the requested resolution in the actual email of complaint or offer another option that might be more beneficial.
A full refund will be provided by the end of the week…
We have already shipped a replacement, and you should have it by Thursday…
We will be reorganizing our customer service practices to ensure that this does not happen again…
Step 6: Make a Final Apology
It is good practice to express your sincerity by offering a final apology and then closing the email formally.
Once again, please accept our sincere apologies for…
We are extremely sorry for the troubles caused by….
Please allow me once again to apologize for the inconvenience this has caused…
Please have a look at the sample reply to an email of complaint below before continuing on to the quizzes for this lesson.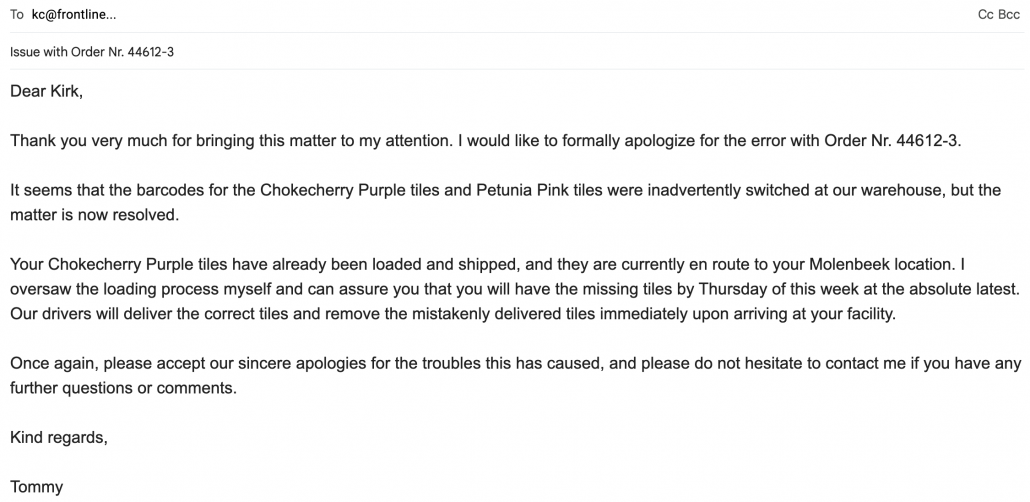 Now that you have taken a look at the proper structure of a reply to an email of complaint, please feel free to move on to the quizzes below.